Bulletproof Infosec 2018
Written by Oli Pinson-Roxburgh on 30/05/2018
It's almost here…
As we're all no doubt aware June will see the start of a prestigious event. Thousands will flock to see world class professionals showcase their talents and technical prowess. Yes, I am talking about Infosecurity Europe or Infosec. The FIFA world cup also starts in June, but nobody cares about that and we already know it's going to be a disaster anyway.
For those unaware of Infosec or Information Security Europe, it's Europe's number one cyber security event. This year, it'll take place over a three-day period starting on June the 5th and ending on the 7th and will be held at the London Olympia. Over 400 companies will be setting up stands and putting on presentations to share their views, services and knowledge of everything cyber security. Of those 400, Bulletproof are one. We will be rolling out our iconic security van (yes, it is iconic, don't argue) and presenting from stand G220, which conveniently for us, is right next to the canteen. We'll be first in line for the sandwiches at all times.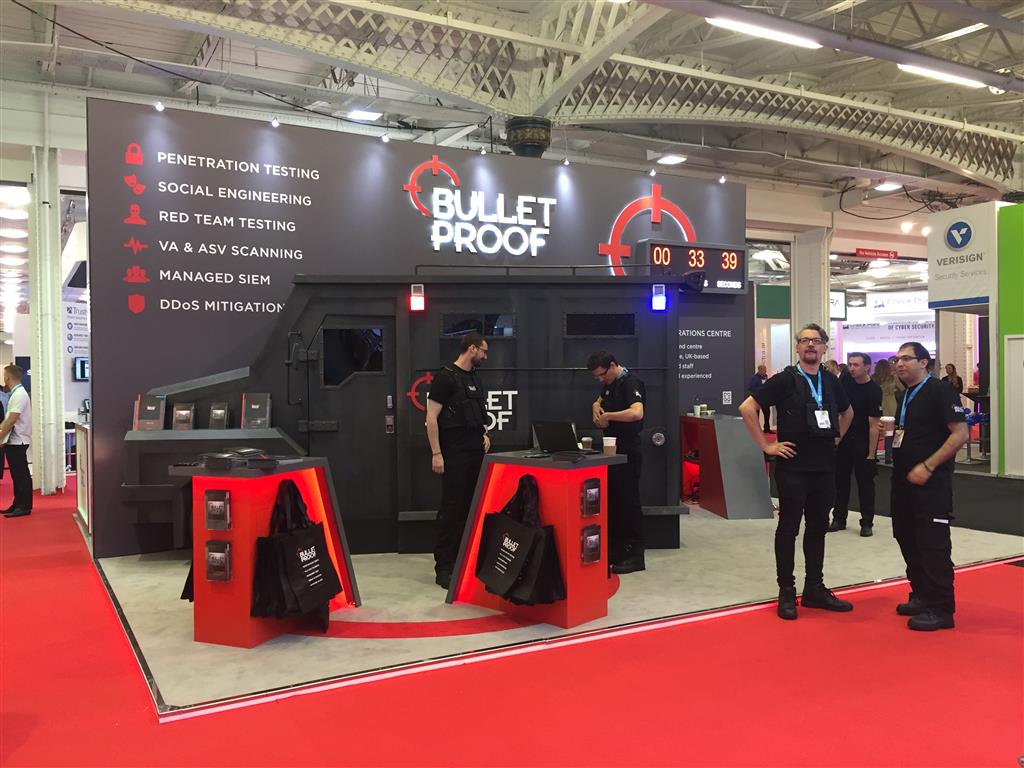 ---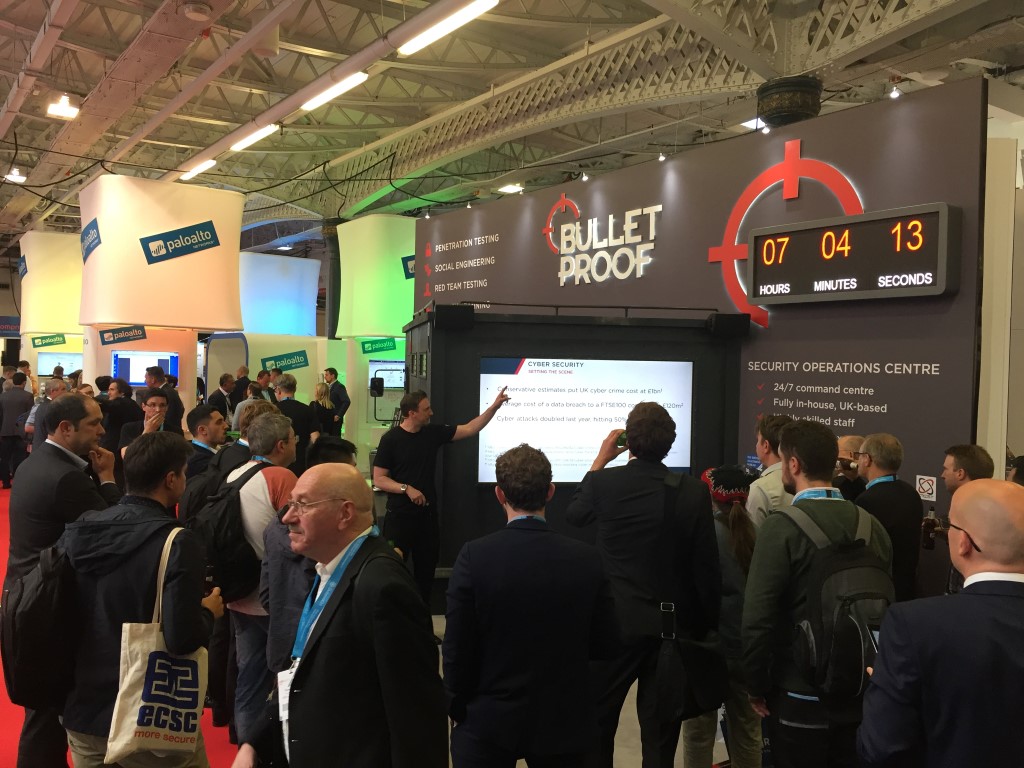 What to expect
Infosec is like the Comic Con of the cyber security world. People even dress up. Well, we do anyway. There'll be informative talks from industry experts. There'll be companies showing off their latest tech, products and services, but more importantly, there'll be all the free goodies you can carry. A day at Infosec stands to be engaging, informative and productive. There'll be over 19,000 people attending, so it also offers a tremendous networking opportunity.
We have some exciting presentations planned and some fun goodies to give away. Our very own CEO Mark Boost will be attending along with some of our fantastic penetration testers (it'll be the first time we've let them out in months). We've also employed the services of a magician to inject yet more fun into the proceedings. The venue wouldn't allow our circus elephants and in-house trapeze artists unfortunately… something to do with health and safety. A lot of money spent and six months training all for nothing there. Oh well, lesson learned.
---
Our services
Come and watch to get a better understanding of our managed SIEM services, and talk to the ones who actually do it, to learn some of the technical wizardry they employ to hack businesses. Learn more about our penetration testing services and how it can really benefit your business, ultimately saving you time and money. Then there's our GDPR consultancy services. There'll no doubt be hundreds of people talking about this ominous sounding piece of legislation, but ours involves a magician (who doesn't like being referred to as a wizard and refuses to wear the fake beards I give him for some reason), so you'll want to see that.
Bulletproof attended the event last year (2017) and found it an eye-opening experience. Information security is big business and it's only going to grow. Infosec is the best place to find out what everyone's working on, what new technology is coming to the scene and what new threats are emerging in the digital wilderness. The future looks exciting as far as the industry is concerned and Infosec allows you to see a glimpse of it.
---
Get involved
Over the course of the three days, we hope to meet many interesting people. We're even willing to meet with people who aren't that interesting because such is our inclusive nature. There's nothing we like more than a good discussion on cyber security (or anything else really, but we try to remain focussed) with enthusiastic individuals. So, if you're attending the event, come over to stand G220 and say hello.
If you're interested, but haven't signed up yet, there's still time (unless you're reading this after the 7th of June, in which case you're far too late). Hop over to the Infosec website and register for your pass. We'd love to see you there and chat about your cyber security needs.
---
Off to the pub
Of course, what we're really looking forward to is an evening of drinks following the show on June 5th. Bulletproof have hired out the BrewDog pub in Shepherd's Bush and will be providing an open bar (for those on the list). With 40 taps dispensing a wide array of beers, it stands to be a good night. Ales can be quaffed and tales of Infosec adventures swapped. The magician will also be making an appearance, only this time, he won't be limited to cyber security.
If you're looking to attend Infosec on that day, come by our stand (G220, next to the canteen), introduce yourself and we'll look to add you to our exclusive list. We'll be putting on transport to the venue too.
So, from the 5th to the 7th of June we at Bulletproof will be in our element, surrounded by like-minded individuals and completely immersed in all things cyber security. We'd love to see some familiar faces and get to know some new ones. Come and see us, watch some magic, grab some goodies and then head to the pub.
CREST approved

ISO 27001 and 9001 certified

Tigerscheme qualified testers

PCI DSS v3.2 Level 1
service provider

24/7 on-site Security
Operations Centre
Get a quote today
If you're interested in our services, get a free, no obligation quote today by filling out the form below.