Understanding the business value of a virtual CISO
Cyber attacks are an ever-present threat and hackers continue to develop more sophisticated ways to gain access to business data. Organisations host a vast amount of sensitive information online that can be exploited by cybercriminals if left unprotected. With the way business is conducted, including an increase in remote workers and migration to the cloud, businesses need to implement strong security controls to bolster their cyber posture and secure their data. This can be achieved by recruiting a Chief Information Security Officer to develop and manage the organisation's information security program, but with the average salary topping £97,691, it is often a role many growing businesses cannot resource. That's why many organisations are opting for a virtual CISO to oversee their security management.
---
What is a virtual CISO?
A virtual chief information security officer (vCISO) is an outsourced security expert that is responsible for consolidating the security of a business and its data. vCISOs help to develop and manage security strategies, and often implement enhanced security frameworks to ensure organisations are protected from cyber security risks.
Virtual CISOs are a cost-effective and bespoke solution to the traditional CISO role, offering greater flexibility and the ability to focus on specific areas of the business. vCISOs supplement the existing teams within an organisation, helping to provide support and guidance to key stakeholders, while also supporting organisations to meet their compliance obligations.
---
Why are virtual CISOs becoming popular?
There are plenty of reasons why virtual CISOs are increasing in popularity. With CISOs out of reach for small to medium-sized businesses due to their costs and the demand from enterprise businesses, the availability and readiness of virtual CISOs has become an attractive and viable alternative.
With evolving security risks and the frequency of cyber attacks threatening the security of business data, organisations are choosing vCISOs to help manage their security strategy. A virtual CISO can also help organisations generate growth by providing greater peace of mind for new business and supply chain prospect, by demonstrating that their digital environment is secure.
Here are some valuable benefits a vCISO can bring to your business: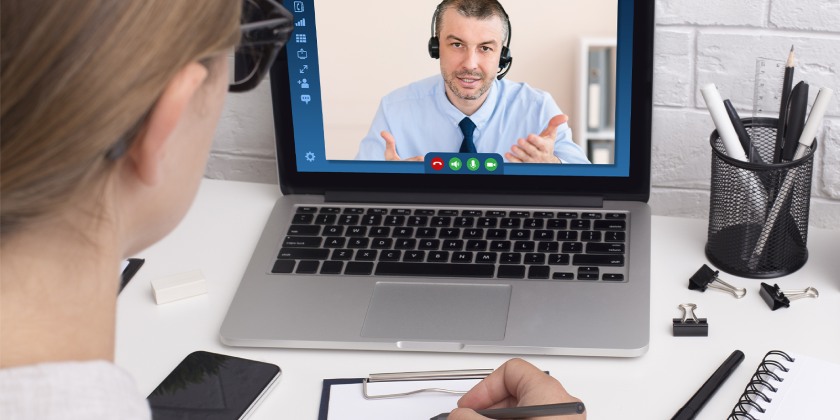 ---
Benefits of a vCISO
A vCISO can improve your business security posture. It's crucial for organisations to regularly review and strengthen their security controls for the best chance to withstand a data breach or cyber attack. A virtual CISO will assess any existing vulnerabilities and help build a roadmap to improve areas of concern.
A vCISO is an affordable solution compared to an in-house CISO. By outsourcing to a virtual CISO, you only pay for the services you require therefore reducing the overheads that are involved with hiring a full-time CISO.
Expect greater ROI as a virtual CISO will offer businesses enhanced cyber security experience due to their expertise in multiple industries.
Virtual CISOs can work from anywhere and anytime therefore providing more flexibility for companies than hiring a full-time CISO. With a vCISO, businesses can avoid setting aside a high salary for a CISO and reduce additional costs such as providing company benefits and supplying equipment.
vCISOs offer a bespoke solution and exercise invaluable versatility as they can be deployed to address specific business requirements.
Virtual CISOs are efficient as they can be deployed instantly and hit the ground running. vCISOs require no training and can begin to share their knowledge and expertise in a rapid and organised manner.
vCISOs are external contractors and therefore better placed to deliver an honest and objective view of a business' landscape and address key areas for improvement.
A virtual CISO will often be employed across a variety of businesses and industries, developing a greater diversity of knowledge than a CISO, who may only have worked for one company throughout their career.
---
Secure your future with a vCISO
There is great value in having a vCISO to help support your existing security framework. A virtual CISO can enhance your security posture to ensure both security and compliance obligations are met, and that business data is secure moving forward. Businesses of all sizes can reap the benefits of a Chief Information Security Officer at a fraction of the cost. A vCISO can also bring value to a business due to its tailored approach, meeting the needs, urgency and budgets of an organisation. With a virtual CISO on board, you can have greater peace of mind that your business security is in hand.
Get expert cyber security advice
Contact our team of experts to find out how a vCISO can help secure your organisation's future.
Learn more
---
Trusted cyber security & compliance services from a certified provider
Get a quote today
If you are interested in our services, get a free, no obligation quote today by filling out the form below.