Why choose Bulletproof as your penetration testing company?
Simulated Cyber Attack
As close as you can get to understanding how your organisation would withstand a sophisticated, intelligence-led attack.
Trusted Provider
Carried out by ethically trained operatives, with no lasting damage to your business or third-party impact.
Multi-layered Design
A multi-layered approach tests people, processes and physical premises through adversary modelling.
Prevent Breaches
Receive a comprehensive report on discovered flaws to help protect your critical business data.
Think like the enemy
Red team tests are multi-layered and will test every layer of your organisation's physical and cyber security through an objective based process. Just like a real cyber criminal, our skilled operatives will attempt to compromise your organisation. A red team test enables you to identify and remediate weak defences, without any lasting damage.
---
Learn more about Bulletproof Red Team assessments
Benefits of red teaming
See if your organisation could withstand real hacking tools and techniques
Assess your ability to detect and respond to threats
Test your human and physical security as well as your cyber defences
Receive a comprehensive report detailing all uncovered security issues
Build stronger defences and prevent a real life breach
What to expect
A red team test is objective based and has a carefully pre-defined scope in order to meet your security goals. Our ethically trained security operatives will collect intelligence on your organisation to create a customised plan of attack, just like a real hacker would.
The test begins with penetration testing and social engineering to identify any weak spots in your cyber and procedural defences. This intel then supports a physical site access attempt, in-line with the pre-defined scope. Once completed, a comprehensive report will explain every step taken and details of the vulnerabilities and data we were able to find.
Red team or pen test?
Penetration tests attempt to find all security vulnerabilities in a set of IT systems, whereas the goal of a red team assessment is to compromise your security defences by any means necessary. A red team's objective-based nature better simulates an attack from a determined cyber criminal.
Red team assessments span all layers of your security defences, including physical, cyber and procedural. While a pen test is purely a technical exercise, a red team assessment can include an on-site intrusion attempt. A red team assessment is also more targeted, and will aim to achieve any objectives set once access is gained.
By thinking like a hacker and testing every layer of your organisations' security defences, you gain a complete holistic overview of your security risks. Red teaming is the best security assessment available and an ideal way to demonstrate to your customers that you take security seriously.
Get a quote today
Gain a complete overview of your security defences with Bulletproof Red Team assessments.
---
Frequently asked questions
What is red team testing?
Some businesses choose to go a step further when it comes to testing their security. Red team testing is a mix of penetration testing, social engineering and physical intrusion. Testers will follow the same process as a standard penetration test in order to compromise data, but will also see if they can exploit flaws (even in physical tech) to gain access to buildings and data centres.
Red team testing can involve a lot of face to face interaction, testing processes and procedures that form part of information security. It may involve phone calls, simple tailgating or even pretending to deliver milk.
Red team assessments provide businesses with a complete analysis of their security, be it technical, physical or procedural. The process often follows the following outline: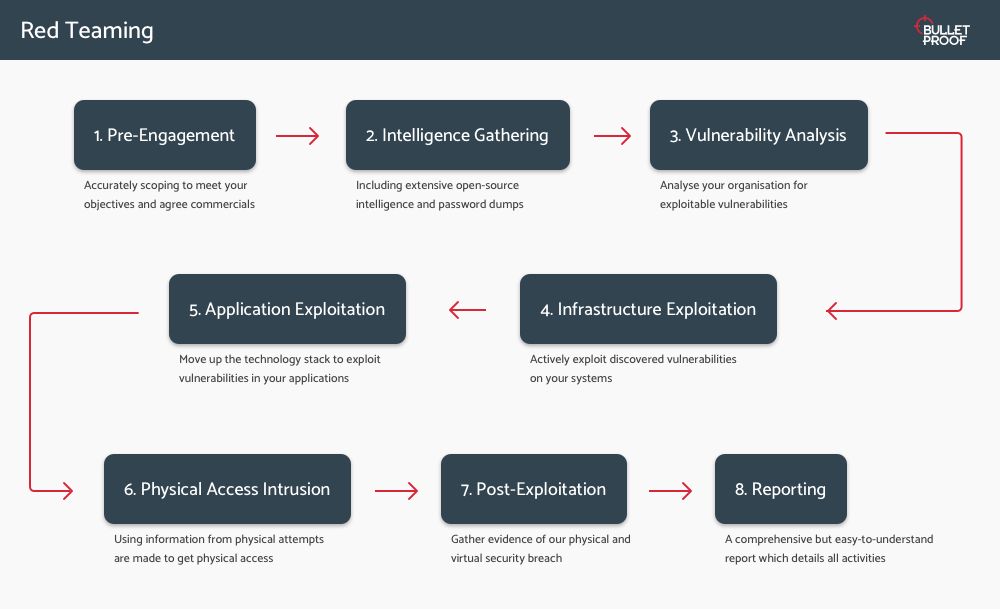 View full size (73 KB)
Do I need a red team assessment?
Hackers and cyber criminals target organisations of all types, industries and sizes. SMEs are just as likely to be targeted as enterprise businesses. This means it's vital that every organisation conducts periodic red team exercises.
Red teaming is the only way to test every layer of your security defences, as it's the only test that encompasses cyber, human/procedural and physical testing. Red team testing enables you to find and fix your security risks before a hacker uncovers them.
Who in my organisation will know about the red team exercise?
For maximum effectiveness, a red team should be as realistic as possible. This means very few people in your organisation will be aware of the test taking place. Typically, the test will be authorised by someone at C-Level or Director level within your organisation.
I have a blue team. Can we co-ordinate the exercise?
For organisation with established blue teams, Bulletproof welcomes the opportunity to create tailored plans. Co-ordinating the exercise to test specific attack strategies is a great way to test the effectiveness of your blue team in real-world situations.
Our experts are the ones to trust when it comes to your cyber security